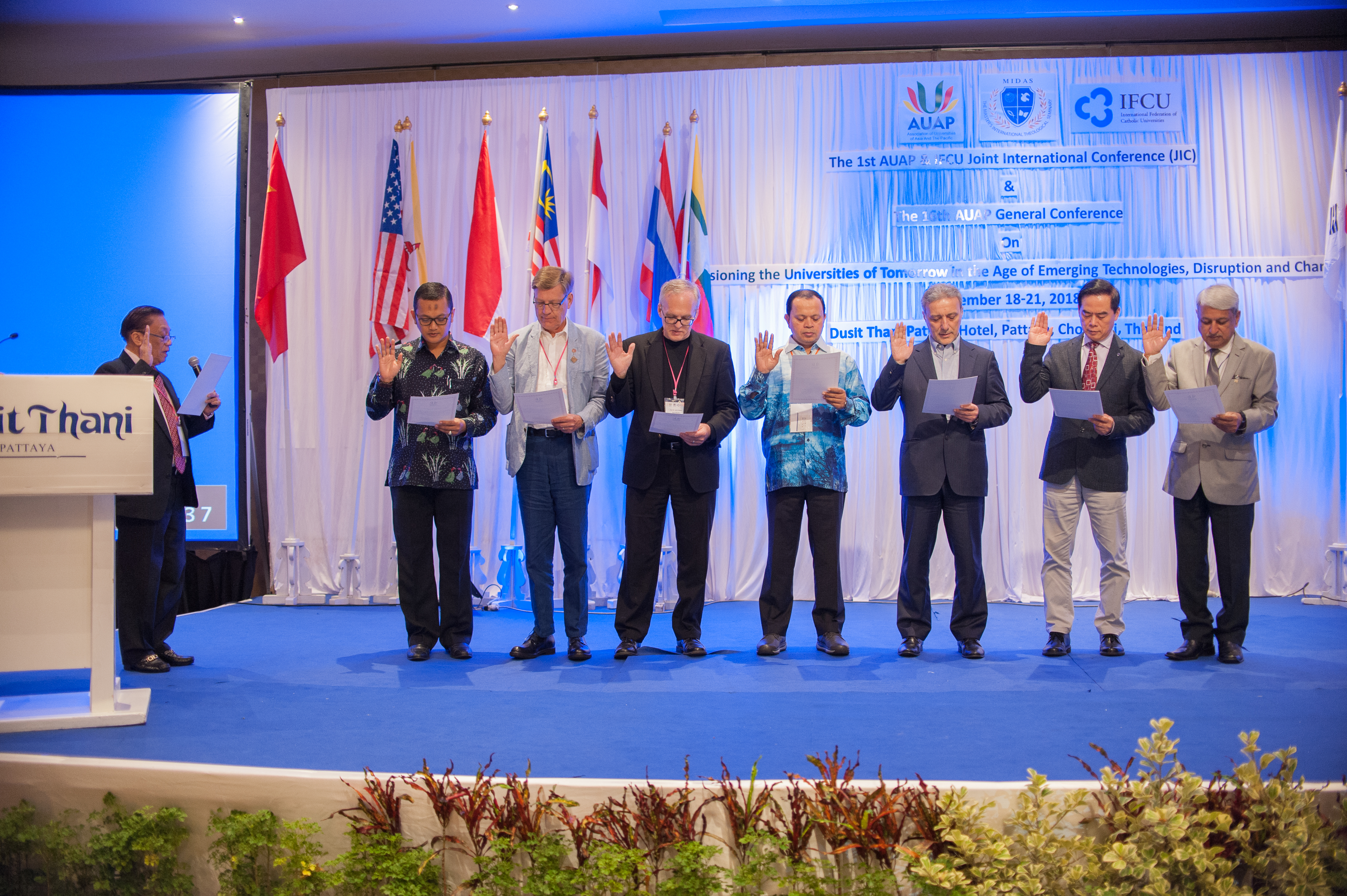 AUAP Acknowledgement as 1st Vice President
AUAP Acknowledgement as 1st Vice President
AUAP Acknowledgement
Alhamdulillah
It was undoubtedly very ecstatic news for me when I was elected the Vice President for 2019 – 2020 for Association of Universities for the Asia-Pacific (AUAP). The excitement comes from the fact that, In-Shaa-Allah, I will be given the position for the first Vice President for 2021- 2022, and then President for 2023 and 2024. Alhamdulillah, I am very grateful to the Almighty and all the members of AUAP for their faith upon me, during the 19th Annual General Conference in Pattaya, Thailand. I am honored and at the same time was surprised to receive such an esteemed position by an almost unanimous vote. Dr. Sunghee Nam, President of AUAP announced the result in the conference and congratulated me as the Second Vice President of AUAP to lead the organization now and onward.
My heartiest congratulations go to my competitors Associate Prof. Dr. Weerapong Pairsuwan, Rector, Suranaree University of Technology, Thailand; and Dr. Anand Jacob Verghese, Pro-Chancellor, Hindustan University, India. I am really grateful also to the first Vice President and President, Fifteen flags were hanging on the dais, but it was not disheartening for me to see that there was no flag from Bangladesh because I hope I will uphold the Bangladeshi flag in future In-Shaa-Allah. I hope that as the first Bangladeshi to earn this position, I can contribute a lot to my community, and for the education scenario in Bangladesh.
I believe to have all of your support by the time I become President. I also announce with utmost pride that the Standing Committee of AUPF (Asian University Presidents Forum) has agreed to host the next AUPF conference in Bangladesh, in November 2019, and I am sure that AUAP will provide many opportunities for the students in Bangladesh, especially for those in Daffodil. I hope that I can use this position to support my country. I will always be grateful to those that voted me, especially because I was against so many qualified competitors. Thank you.
I would also like to thank and pay my gratitude to all seven universities that supported me by providing open letters, among others, Dr. Henry Reiser, President, College of New Caledonia; Dr. Shawn S. Chen, Chairman, Sias International University, China; Prof.Dr. Mahmoud Nili Ahmad Abadi, President, University of Tehran, Iran; Dr. Sung Hee Nam, President, Daegu Health College, South Korea; Dr. Rolando Garcia, President, Master's Institute Development Academy and Seminary Philippines.; Dr.Mallari Myrna, President, Tarlac State University, Philippines; and Dr. Haji Norarfan bin Haji Zainal, Rector, Sultan Sharif Ali Islamic University, Brunei Darussalam.
Alhamdulillah, I have achieved a lot of awards, a lot of rewards, a lot of recognition locally and internationally– but it also gives me pleasure that I also got the opportunity to serve as the President of BCS and DCCI. No doubt, it is a great opportunity for me to serve in the international arena where I can contribute to the global education system at the same time. I can also make good bridging with the Bangladeshi education system. I hope that everyone will pray for me so that I can make really a good contribution to our country. At the same time, I aim to make a good contribution to AUAP also.
So, the AUAP members also can remember and recognize that– yes one of the Bangladeshi representatives who got the opportunity to serve the AUAP as a Vice President, Senior Vice President and, subsequently President.
I hope that ALLAH will help me, bless me. ALLAH will give me the opportunity to serve my responsibilities as best as possible.
– Dr. Md. Sabur Khan, Founder & Chairman, Daffodil Family